For telco-oriented applications, Teletronics' point-to-multipoint system takes advantage of IP backbone networks.
The system enables a cumulative data rate of up to 4Mbps from the centralized hub unit and can support hundreds
of a customer's sites within the network. The distance from the centralized hub to each of the customer's sites can
vary from a few meters to tens of kilometers; and the antenna coverage patterns can be uniquely designed to cover
either a wide area or a narrow strip of territory as long as line-of-sight paths are available.

The essence of Teletronics' point-to-multipoint network is its versatile Versa units (Base Station Units) and CPEs
(Client Station Units), both of which can act as a Bridge or as a Router (see Bridges/Routers for details). A general
illustrative diagram is provided below:
Teletronics Point-to-Multi-Point Diagram (Click here to enlarge)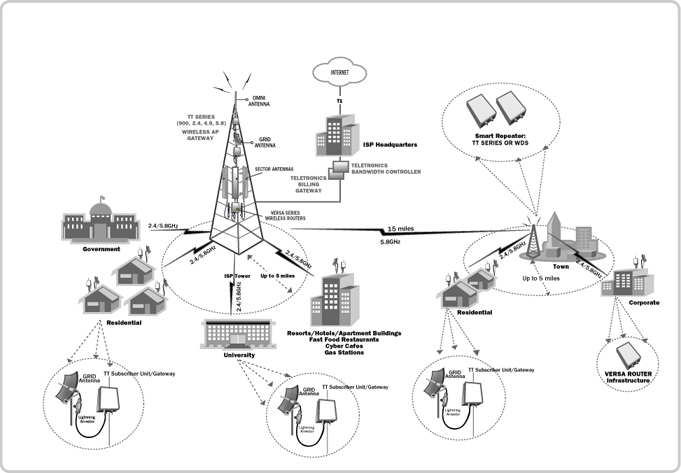 As the trade name suggests, Teletronics' EZLoop® systems are easy to implement. The systems have been deployed
in cities, oil-fields, mines, schools, banks, surveillance posts, along river-banks, and at other locations around the world. EZLoop® systems are ideal for small to medium-sized operators that cannot afford telco-level costs in implementing the specified elements of an optimized wireless network.
Teletronics' work tasks to commission a network include:
Performing a customer needs assessment, fully matching system specifications to desired commercial performance.
Performing the necessary propagation analysis and conducting a site survey.
Designing a wireless broadband network that both complements the customer's near-term operations and is
scalable to the customer's long-term growth expectations.
Installing, integrating, testing, calibrating, and optimizing the system.
Providing training courses for operation and maintenance; and carrying out system maintenance and support services.
Providing warranties; repairing or replacing defective warranted equipment; and offering dial-up network management and performance assistance.