Bridges and Routers Menu: Please click drop down menu to choose:


Teletronics International, Inc. presents the iVERSA "All-in-One" solution
package (licensed for operation in the 2412 to 2484 MHz frequency band).

iVERSA is a quick, easy & cost effective way to enable fast and reliable
business-to-business connectivity. The iCPE package is in a class of its
own using robust, high quality and highly sophisticated spread spectrum
technology.

Teletronics iVERSA includes: 2.4 GHZ Integrated Antenna & Radio,
mounting hardware, Power Over Ethernet Interface and Power Supply.

It is also ideal to build Repeaters in combination of two , or one and
one Access Point. The link to the back haul is provided by the PCMCIA
card. The forward link or the local loop is provided by an Access Point
connected to the Ethernet port.

We are interested in OEM arrangements, so please contact us if you wish
to have a special driver set or custom programs. We can quickly get you to
market with your own customized router.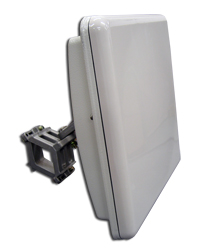 iVERSA Router
Outdoor Unit
Item # 11-200