2.4GHz 15dBi 60° Sector Antenna
The adjustable sector antenna is a vertically polarized sectoral antenna which
has adjustable side panels for 60-160 degree azimuth patterns. The antenna
consists of a printed dipole array enclosed in an aluminum base with a UV
stabilized radome for superior weatherability. It is designed for wireless data
in the ISM band and is at DC ground to aid in lightning protection.




Frequency Range:


2300-2500 MHz

Transmit Gain:

15 dBi @ 60°
13 dBi @ 90°
12 dBi @ 120°
10.5 dBi @ 160°

VSWR:

< 1.5

Front to Back Ratio:

> 20 dB (15 dB @160°)

Polarization:

Vertical

Max. Input Power:

100 W

AZ/EL Beamwidth:

14.5°/60-160°

Wind Load:

125 mph (200 km/h)
| | |
| --- | --- |
| Size: | 20.5" x 4.9" x 4.6" |
| Weight: | 6 lbs |
| Connector: | N Type Female |
| Mounting Kit: | Included: Pole Mount |
| Operating Temperature: | -40°C to 60°C |
| Material: | Aluminum |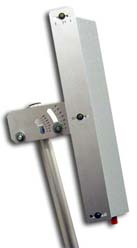 15dBi 60° - 160°
Sector Antenna
2.4 GHz
Item# 15-138