Intranet
Being allocated in the "License Free" band, you can literally start to build up your own "PTT" for your own immediately in an isolated region, and later if you want, gradual evolve your "PTT" to establish outside telecom connectivity.
<![if !vml]><![endif]>Two decades ago, every country has its PTT, or Post, Telegraphy and Telephony Bureau. It monopolistically controls and dictates the communications for all the country. It is the PTT which lays the cable and/or establish microwave or satellite links to provide telecom. All non-PTT telecom operators require licenses to do their operation. In many ways, this is still true today, except the term PTT has long been retired and replacing it with a more practical term. When License Free broad band wireless devices come along, first for indoor confined uses, and later advanced for outdoor last-miles use or even last 10 or even 100 miles transmissions, the telecom authority would prefer to allow broadband wireless system to fill the gap of places where there is no regular cable/fiber/satellite telecom coverage. This is illustrated in the following diagram.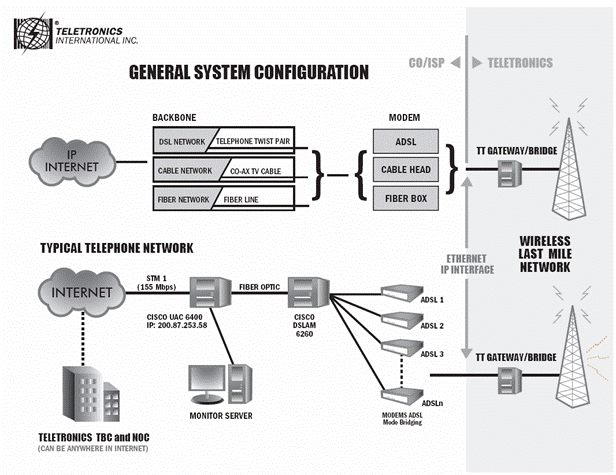 It is a central office (CO) to end-users top-to-down view. In modern days, the top-down approach needs not be the only approach, particularly for remote and/or isolated areas such as over the water, petroleum fields, small islands, prisons, deep forest towns, underground mines, or cities, where the CO is simply not there. For local communities, you can use the down-to-top approach by establishing Intranet first for your own immediate use and later evolve and enhance, till the time you can get outside hook up. The phased approach can be illustrated below.
<![if !vml]><![endif]>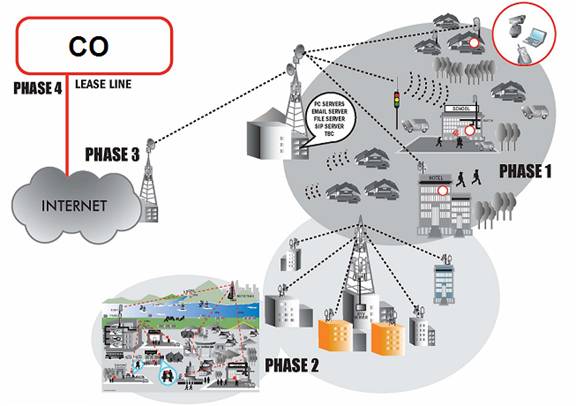 Phase 1 is for your immediate neighborhood, phase 2 is the expansion. All the local needs including internal e-mails, telephones, data and videos can establish until the local prosperity is noticed by the COs. A diagram from Teletronics previous proposal is shown below, where the CO is coming through the IP star.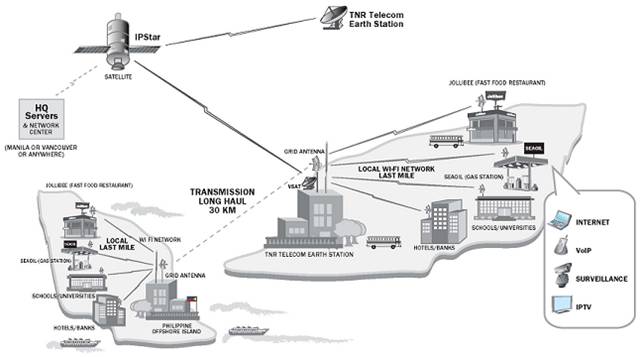 Teletronics has been engaged in an intranet based remote forestry and desert land rail road project in an ASEAN country. To build the 100-Km rail road which takes years, and before local towns and economy can noticeably develop, telecom is an imperative first-order business, which can not wait the COs. Broadband wireless is the solution. It consists of point-to-point, point-to-multipoint, hotspot and WiFi, etc., all described before. As a pioneer, Teletronics send teams and accommodates. Let us know your requirement; we can do the same for you.