Technical Specifications
Frequency Range
5150MHz ~ 5850MHz
Watch Dog Timer
Yes
RoHS compliance
Yes
Ethernet Connector
RJ-45 All Weather x 1 Port
10/100 BaseT, Auto - negotiation
IEEE 802.3, IEEE 802.3u, IEEE 802.3af
Console Connection
RJ-45, RS-232 (UART) x 1 Port
Management
web configuration interface, TELNET,
SNMPv1, V2, V3c, Serial port console,
EZNMS
Mounting
pole mount
DC Power Input
Includes 48VDC Adapter
And PoE Injector with surge protection
IEEE802.3af compliant
Reset
Power Reset
Reset to Factory Default
LED
Power, Wireless Activity
Operating Temperature
-40°C to +70°C
Operating Humidity
5 ~ 95% non condensing
Regulation Compliance
FCC Part 15B, FCC Part 15C,
EN300328, EN302502, EN301893,
EN301 489-1/17, EN60950-1, IP–55, IP65
Antenna Built in Specifications
Frequency Range
5150MHz ~ 5850MHz
V.S.W.R.
= 1.5
Return Loss
= -20db
Antenna Type
Unidirectional Antenna
Gain
5dBi
Polarization
Vertical and Horizontal
Weight
7 lbs
Beam width
45°
Impedance
50 Ohm
Inside Connector
MMCX Male * 2
Wind Survival
> 150 MPH
Radome Material
ABS + PC
Dimension
6.1 x 8.5 x 3.9 inches
Radio Specifications
System operation
Full duplex, Time Division Duplexing (TDD)
Output power
20 dBm
Output Power control
Adjustable TX power and data rate, Automatic adjustable
Different Network Mode
Client, WDS
Data Rate
IEEE 802.11n:
20MHz 1Nss: 65Mbps@800GI, 72.2Mbps@400GI(Max.)
2Nss: 130Mbps@800GI, 144.4Mbps@400GI(Max.) 40MHz 1Nss: 135Mbps@800GI, 150Mbps@400GI(Max.) 2Nss: 270Mbps@800GI, 300Mbps@400GI(Max.)
Frequency Range
IEEE 802.11a/n:
(US & Canada)
5.150 ~ 5.350GHz, 5.470 ~ 5.725GHz, 5.725 ~ 5.850GHz (Europe)
5.150 ~ 5.350GHz, 5.470 ~ 5.725GHz, 5.725 ~ 5.875GHz (Japan)
5.150 ~ 5.250GHz, 5.250 ~ 5.350GHz, 5.470 ~ 5.725GHz (Thailand)
5.150 ~ 5.350GHz, 5.470 ~ 5.725GHz, 5.725 ~ 5.850GHz
Modulation
OFDM: BPSK, QPSK, 16QAM, 64QAM
DSSS: CCK, DQPSK, DBPSK
Security Encryption
WEP 64/128, WPA-PSK/ WPA2-PSK, WPA/WPA-2, AES128, TKIP128
Networking
Bridging mode, NAT gateway, static routing, RIPv2 dynamic routing,Routing OSPF, Routing function no spanning Tree Protocol, DHCP client,DHCP server static/dynamic VLAN, IEEE 802.1Q, management VLAN,SSID-based tagging, PPPoE, QoS (802.11e and WMM)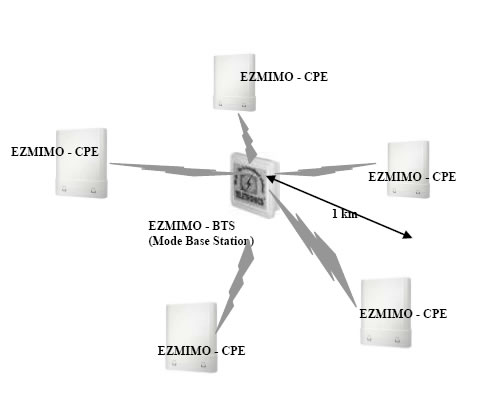 Point to Multi point at one EZMIMO BTS can support 10 EZMIMO-CPE subscribers with average throughput data rate of 6Mbps per subscriber.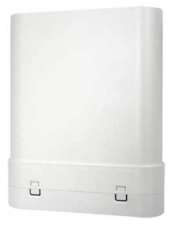 EZMIMO CPE for Thailand
item # 11-512
All-in-One EZMIMO CPE
with 5dBi 5.8GHz
MIMO Antenna

FCC NOTICE:
The use of all radio equipment is subject to
radio regulations in each country. It is the
responsibility of the purchaser/installer/operator
to insure that only approved equipment/systems
are deployed. For the ISM band (900MHz, 2.4GHz, 5.7GHz) equipment manufactured, sold/or used
in the USA, FCC Title 47, Part 15 governs the sale,
lease, use and manufacture of equipment
(wireless LAN cards, wireless Access points, amplifiers, etc.) and prohibits the same unless
such equipment is used in the FCC-certified system configuration with which such equipment is authorized.

For information on Teletronics' FCC certified systems, please visit FCC Details.