Bridges and Routers Menu: Please click drop down menu to choose:
Versatile.
TT™2400, the bastion of versatility
with its inertability to not only bridge
long distances, but to act as the
ideal CPE solution. Boasting a
rich feature set with PoE Hub,
NAT functionality (coming soon),
RSSI 5 Ultra-bright LEDs, and
a minimal footprint.

TT2400 Features


Reliable and Flexible.
Flexible and easy to deploy, the TT™2400 delivers outstanding
performance in a simple, cost-effective package. TT™2400 is
designed to provide high-performance connectivity for wide-area
networks and to enable immediate cost-effective deployment of
public and/or private WLAN networks for service providers and
enterprises.


Web & SNMP based Management, EZManager

Adjustable Transmit (TX) Power

VLAN Transparent Support

Intra-BSS Traffic Blocking (Layer 2 Isolation)

Configurable ACK Timeout for Long Distance

Turbo-Mode for High Data Rate (108 Mbps) (Optional)

Ruggedized Waterproof and All-Weather Enclosure

WDS (Wireless Distribution System) available in AP Mode




All-Weather Enclosure.
The TT™2400 802.11b/g High-Power bridge is designed for outdoor
all-weather deployment and offers a robust weatherproof case
that can protect itself against rain, wind, and snow. For added
security and privacy, TT™2400 has integrated WPA, WPA2, 64/128
bit WEP data security, unlimited MACs, and Web and SNMP Management.
Standard Compliance:

IEEE 802.11b/g (54 Mbps)

Modulation:

OFDM w/ BPSK, QPSK, 16 QAM, 64 QAM Modulation

Frequency Band:


2.4GHz: IEEE 802.11b/g ISM Band
USA (FCC):
2.412 GHz ~ 2.462 GHz
(CH1 ~ CH11)
Europe (ETSI):
2.412 GHz ~ 2.472 GHz
(CH1 ~ CH13)
Japan (TELEC):
11b: 2.412 Ghz ~ 2.484 GHz (CH1 ~ CH14)
11g: 2.412 GHz ~ 2.472 Ghz (CH1 ~ Ch13)

Data Rate:

54, 48, 36, 24, 18, 12, 11, 9, 6, 5.5, and 1 Mbps

Output Power (200mW):

IEEE 802.11b: 23dBm (+/- 1.5dB) @ 1/2/5.5/11Mbps
IEEE 802.11g: 20dBm (+/- 1.5dB) @ 54 Mbps
21dBm (+/- 1.5dB) @ 48 Mbps
22dBm (+/- 1.5dB) @ 36 Mbps
23dBm (+/- 1.5dB) @ 24~6 Mbps

Mounting:

For both wall and pole mount

Enclosure:

Silver Powder Coated Cast Aluminum

Receive Sensitivity:

IEEE 802.11g


IEEE 802.11b

54Mbps: ≤ -72dBm
48Mbps: ≤ -75dBm
36Mbps: ≤ -78dBm
24Mbps: ≤ -82dBm
18Mbps: ≤ -84dBm
12Mbps: ≤ -86dBm
9Mbps: ≤ -88dBm
6Mbps: ≤ -90dBm


11Mbps: ≤ -87dBm
5.5Mbps: ≤ -88dBm
2Mbps: ≤ -90dBm
1Mbps: ≤ -92dBm

RF Channels:

Total of 3 Non-Overlapping Channels

Data Security:

WPA/WPA2, 64/128 bit WEP, MAC Address Filter,
Intra-BSS Traffic Blocking (Layer 2 Isolation)

Fully Transparent Bridge:

Bridge Layer 2 in AP + WDS mode only,
Bridge Layer 2.5 in SU mode

Management:

Web and SNMP based Management, EZManager

Ethernet Connection:

10/100 BaseT
Auto MDI/MDX

Antenna Connector:

N-type Female

Signal Indicator:

5 Ultra-bright LEDs

DC Power Input:

Includes 48VDC Adapter and PoE Injector
with surge protection IEEE 802.3af compliant

Operating Environment:

-40° C to + 70° C

Utility:

Ping WATCHDOG

Weight:

5.5 lbs

Access Point Feature:

Wireless Distribution System (WDS)
allows APs to wirelessly connect to each
other while servicing clients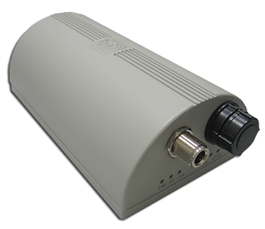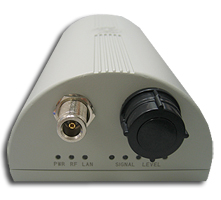 NEW!
2.4GHz
802.11b/g, TT™2400
High Power Bridge

ITEM# 11-152i (AP Mode)
ITEM# 11-153i (Bridge Mode)

FCC ID: MFMTT-2400
FCC NOTICE:
The use of all radio equipment is subject
to radio regulations in each country. It is
the responsibility of the purchaser/installer/
operator to insure that only approved equipment/systems are deployed. For
the ISM band (900MHz, 2.4GHz, 5.7GHz) equipment manufactured, sold/or used in the USA, FCC Title 47, Part 15 governs the sale, lease, use and manufacture of equipment
(wireless LAN cards, wireless Access points, amplifiers, etc.) and prohibits the same unless such equipment is used in the FCC-certified system configuration with which such equipment is authorized.

For information on Teletronics' FCC certified systems, please visit FCC Details.