Bridges and Routers Menu: Please click drop down menu to choose:
With 23dBi Patch Antenna.
This all-in-one TT™5800 with 23dBi
patch antenna integrated solution
includes: 5.8GHz high-power 802.11a
radio & antenna integrated mounting
hardware, power-over-ethernet
interface and power supply.

Web & SNMP based Management

Intra-BSS Traffic Blocking

Adjustable Transmit (TX) Power

VLAN Transparent Support

Configurable ACK Timeout for Long Distance
Frequency Range:

5725 - 5850 MHz

Gain:

23 dBi

Maximum Input Power:

10 W

Polarization:

Vertical or Horizontal

AZ/EL Beamwidth:

9°/9°

Front to Back Ratio:

> 30dB

VSWR 50 Ohm:

< 1.7

Wind Load:

138mph (220 km/h)

Size:

12" x 12" x 2"

Combined Weight:

11 lbs (with radio)

Connector:

Outdoor RJ-45 (All Weather)

Mounting Kit/Style:

Included: Pole Mount

Operating Temperature:

-40°C to + 70°C

Material:

ABS (Aluminum Enclosure)

Additional Features:

High Gain Antenna

Radio TT™5800 Specifications

Standard Compliance:

IEEE 802.11a

Modulation:

OFDM w/BPSK, QPSK, 16 QAM, 64 QAM

Frequency Band:

5.150 - 5.850 GHz

Data Rate:

54, 48, 36, 24, 18, 12, 9, and 6 Mbps

Output Power: (300mW)

25dBm (+/-3dB) @ 6/9/12/18/24 Mbps

Receive Sensitivity:

-90 dBm ≤ 6 Mbps/-72 dBm ≤ 54 Mbps

RF Channels:

Total of 5 Non-overlapping channels

Data Security:

WPA, WPA2 & 64/128 bit WEP Data Security

Signal Indicator:

5 Ultra Bright LEDs

DC Power Input:

48 V DC Adapter, PoE with Surge Protection,
IEEE 802.3af compliant

Operating Temperature:

-40° C to + 70° C

Utility:

WATCHDOG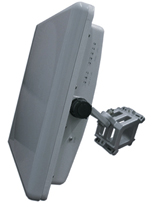 SLAB5823
with 23dBi Patch Antenna
Item# 11-150




FCC NOTICE:
The use of all radio equipment is subject
to radio regulations in each country. It is
the responsibility of the purchaser/installer/
operator to insure that only approved equipment/systems are deployed. For
the ISM band (900MHz, 2.4GHz, 5.7GHz) equipment manufactured, sold/or used in the USA, FCC Title 47, Part 15 governs the sale, lease, use and manufacture of equipment
(wireless LAN cards, wireless Access points, amplifiers, etc.) and prohibits the same unless such equipment is used in the FCC-certified system configuration with which such equipment is authorized.

For information on Teletronics' FCC certified systems, please visit FCC Details.