Bridges and Routers Menu: Please click drop down menu to choose:
By adopting Intel RCP concept, Teletronics provides super high throughput and Long Range Back Haul, durable and reliable outdoor wireless broadband connectivity solution for various applications such as video surveillance, Voice over IP, and high speed data transmission with quality performance.
Features
Based∙on the Intel IXP platform
Integrated 26dBi antenna
High Data Rate
(Throughput 8Mbps @ 100km)
High Reliability
Long Distance Connectivity
TDMA & CSMA Technology
System
Model Name
EZ Backhaul
CPU
IXP425 ,533MHz
System Memory
16MB Flash 32MB SDRAM
Power
Power over Ethernet (Injector spec : output 19.2Watts, 48V/0.4A)
Software and Operational
Operation Mode
Base Station , CPE, Relay Point to Point , Point to Multiple Point
Security
WEP 64/128, WPA-PSK/ WPA2-PSK, WPA/WPA-2
Super A
Fast Frames, Bursting Compression
Link aggregation
Throughput Enhancement
Intel TDMA
For long distance transmission
Configuration & Management
Web-based Management (Secure SSL), Command Line Interface (SSH or RS-232 (9600)), Windows-based Utility, SNMPv2
Radio
Operating Frequency
FCC : 5.725~5.850 GHz 2.412~2.462 GHz CE : 5.470~5.725 GHz 2.412~2.472 GHz
RF output power
(Max. of Avg.)
24dBm at Radio for FCC
30dB EIRP for ETSI
(Controllable for different country regulations)
Sensitivity
≤-90dBm @ 6Mbps
≤-73dBm @ 54Mbps
Regulation Compliance
FCC Part 15B FCC Part 15C ETSI 301 893
EN301 489-1/17 EN60950
Enclosure & Environment
connector
(Flexibility for Local Coverage Application)
Operating Temp
-30 ~ 70 °C
Interface
MDI / MDIX 10/100 Fast Ethernet
RS-232 (COM)
RS-232 (UART) in RJ45 Form factor
Buzzer
Signal indication
Antenna Specifications (For All-in-One version Only)
Frequency Range
5150 - 5850 MHz
Gain
26 dBi
AZ/EL Beamwidt
7° / 7°
Front to Back Ratio
> 35dB
VSWR 50 Ohm
<1.5
Wind Load
135 mph (220 km/h)
Size
18" x 18" x 3"
Combined Weight
11 lbs (with radio)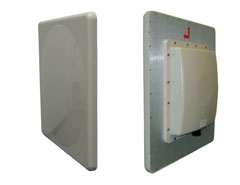 Item #: 11-901
All-in-One EZBackhaul with
Dual 5.8GHz Radio &
26dBi Integrated Antenna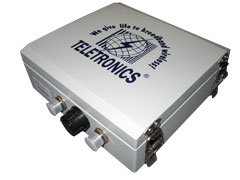 Item#: 11-902
EZBackhaul: stand alone version

FCC NOTICE:
The use of all radio equipment is subject
to radio regulations in each country. It is
the responsibility of the purchaser/installer/
operator to insure that only approved equipment/systems are deployed. For
the ISM band (900MHz, 2.4GHz, 5.7GHz) equipment manufactured, sold/or used in the USA, FCC Title 47, Part 15 governs the sale, lease, use and manufacture of equipment
(wireless LAN cards, wireless Access points, amplifiers, etc.) and prohibits the same unless such equipment is used in the FCC-certified system configuration with which such equipment is authorized.

For information on Teletronics' FCC certified systems, please visit FCC Details.