Bridges and Routers Menu: Please click drop down menu to choose:
EZStation5 is a high-performance Indoor/Outdoor Access Point with integrated PoE. Using Atheros-based Wireless radios, EZStation5 supports high-speed data transmission of up to 54Mbps or 108Mbps. EZStation5 is embedded with an integrated 5GHz 12dBi dual-polarization (vertical and horizontal) antenna. With optional 19dBi patch antenna, EZStation5 provides extended coverage for long range solution. The device is a powerful and yet easy to use and implement for wireless ISP.
Features
Atheros eXtended Range technology

175Mhz,16MB SDRAM,4MB Flash

Support Power-over-Ethernet (PoE passive)

Support 64/128-bit WEP, WPA, WPA2,

IEEE 802.1x authentication

Multiple SSID feature with VLAN
segmentation
Build in with Grounding Terminal

Surge arrestor support

Weatherproof casing

12dBi Patch Antenna
Frequency Range:
5.45 - 5.850 MHz
Gain:
12 dBi
Polarization:
Vertical or Horizontal
AZ/EL Beamwidth:
18°/18°
Front to Back Ratio:
> 25 dB
19dBi Patch Antenna (Optional)
Frequency Range:
5.725 - 5.850 MHz
Gain:
19 dBi
Polarization:
Vertical or Horizontal
AZ/EL Beamwidth:
16°/16°
Front to Back Ratio:
> 25 dB
VSWR:
<1.5
Wind Load:
130 mph (210 km/h)
Size:
10.5" x 7.7" x 1.6"
Weight:
2.2 lbs
Mounting Kit:
Included: Pole Mount
Material:
ABS
Radio Specifications:
Processor
175MHz ADMtek5120
Memory Size
16MB SDRAM, 4MB Flash
Frequency Range
5.03 GHz – 5.85 GHz, 4.9GHz Public Safety Spectrum
Data Rate
802.11a (54, 48, 36, 24, 18, 12, 9, and 6Mbps)
Transmit Power
26dBm (+/-1.5dB)@6/9/12/18/24 Mbps
20dBm(+/-1.5dB)@54 Mbps
Receiver Sensitivity
-90 dBm ≤ 6Mbps, -70 dBm ≤ 54 Mbps
Operation Modes
Access Point/Client/RootAP/Transparent Client/Repeater/Wireless
Adapter/Wireless Routing Client/Gateway
WAN Type
Static IP/Dynamic IP/PPPoE/PPPTP
Management
HTTP/HTTPS Web Server/SNMP V2c/Telnet/SSH
Data Capture & Notification
Event Login (Syslog)/Detailed Statistics per Client
Virtual Access Point
Up to 4 SSIDs with unique MAC Addresses (BSSID)
802.1q VLAN tag per AP with Bridging
Configurable Security (WEP, WPA, WPA2, MAC filtering) per AP
Advanced Features
DHCP Server/DHCP Relay, Transmission Power Control, Closed System
(Suppress SSID), Transmission Rate Control, Antenna Alignment
Bandwidth
Adjustable channel bandwidth, supports 5MHz, 10MHz, 20MHz spectrum
Routing
RIPv1/v2 in Routing Mode
Weight
420 grams
Operating Temperature:
-20 degree C to 70 degree C
Dimension:
233 x 123 x 60 (mm)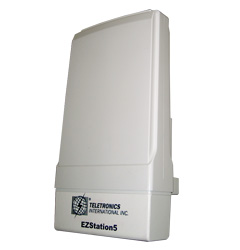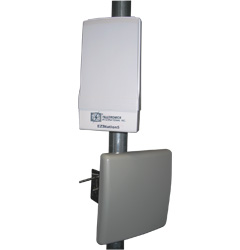 EZ Station 5
5.8GHz 400mW plus 12dBi Antenna
(Optional) 19dBi Patch for extended coverage
Item# 11-732


FCC NOTICE:
The use of all radio equipment is subject
to radio regulations in each country. It is
the responsibility of the purchaser/installer/
operator to insure that only approved equipment/systems are deployed. For
the ISM band (900MHz, 2.4GHz, 5.7GHz) equipment manufactured, sold/or used in the USA, FCC Title 47, Part 15 governs the sale, lease, use and manufacture of equipment
(wireless LAN cards, wireless Access points, amplifiers, etc.) and prohibits the same unless such equipment is used in the FCC-certified system configuration with which such equipment is authorized.

For information on Teletronics' FCC certified systems, please visit FCC Details.