Bridges and Routers Menu: Please click drop down menu to choose:

Reliable, Intelligent, High Performance Mesh Network
Patent-pending, auto-discovery, autoconfigure, real time routing, and autohealing POP (Predictable Optimum Path) mesh routing algorithm
Real-time mesh rounting based on monitoring current environment, product function change and administrator bandwidth adjustment needs
Multiple wireless path design for both backhaul and user traffic eliminates adjacent AP signal interference and provides zero performance degradation
Up to 16 separate SSID/VLAN with different authentication and encryption algorithms simultaneously
Best network throughput via layer 2 fast switching and bridging
Fully Compatible with Existing Access Servers, Routers, and Gateways
Transparent to layer 3 and up protocols, fully compatible with existing network equipment
Directly connects to existing Routers, Gateways, or APs through 10/100 Ethernet
Management and Security
Supports SNMP v2c & Web Based browser
Supports WEP encryption security across wireless mesh network
Mesh network protection with user defined Mesh ID
Providing City-Wide Wi-Fi access to any community large or small. The EZMESH™ provides users with a dependable, flexible network, and at the same time improves city-wide productivity, increases safety and encourages economic development. EZMESH™ provides Wi-Fi access using wireless mesh technology with Plug-n-Play easy installation, and allows wireless service providers to deliver a true wireless network over large geographical areas or other areas where wiring is too difficult or expensive to install.
A Mesh Link is a true wireless connection (Point-to-multipoint and Point-to-point) between any two EZMESH™ units. Teletronics' EZMESH™ Outdoor Dual-AP implements layer 2 mesh routing which provides excellent network performance and is fully compatible with existing network equipment and applications. EZMESH™ can support high-BW and low-latency applications like real-time video and audio.
Predictable Real-time Optimum Path (POP) routing algorithm creates a EZMESH™ based Wi-Fi mesh network with the highest throughput, reliable mesh link, and self-discovery/self-configuration/selfhealing benefits. The algorithm's human-like intelligence examines the network and makes the appropriate connections among EZMESH™ APs in real time. It can re-establish a new network when obstacles, individual node problems, new nodes, or internet access events occur.
High Throughput Mesh Network is achieved by a non-blocking and non-interference design for clients and backhaul traffic. EZMESH™ Outdoor Dual-AP with its a multi-radio and multi-channel architecture eliminates the wireless signal interference and traffic conflict problems that exist on many other mesh networks.
SNMP v2c and web-based (HTML) management interface enables both professional and non-technical users to easily handle network management and maintenance tasks for the EZMESH™ Dual-AP units. The " Point and Click " browser interface permits users to monitor node condition, traffic flow, and event logs of the EZMESH™ units on the mesh network. The Web-based topology function also allows network administrators to easily configure, update, and monitor every station on the mesh network. SNMP private MIBs are availabe for advanced users preferring to provide their own network manager.

Wireless Specifications
Backhaul Radio
Number of Radio:
3
Standards:
IEEE 802.11a
Media Access Protocol: K
CSMA/CA with AC
Frequency:
5.8GHz/5.4GHz/5.3GHz/4.9GHz Frequency Bands: 4.9 - 5.091GHz 5.15 - 5.25GHz, 5.25 - 5.35GHz 5.470 - 5.725GHz, 5.725 - 5.850GHz
Modulation
OFDM(64-QAM, 16-QAM, QPSK, BPSK), CCK, DBPSK, DQPSK
Data Rates
1, 2, 5.5, 6, 9, 11, 12, 18, 24, 36, 48, 54Mbps
Tx Power
FCC/IC: 23dBm ( ANT Port) ETSI/EU: 23dBm ( ANT Port)
Receiving Sensitivity
-82dBm @36Mbps; -78dBm @48Mbps; -76dBm @54Mbps
Channels
US/Canada: 12 Europe: 19 Japan: 8 China: 5 Saudi Arabia: 8
Access Point Radio
Number of Radio:
1
Standards:
IEEE 802.11g, 802.11b
Media Access Protocol:
CSMA/CA with ACK
Frequency:
2.4GHz ISM radio band
Frequency Bands:
2.4 - 2.462 GHz
Modulation
802.11g: OFDM(64-QAM, 16-QAM, QPSK, BPSK) 802.11b: CCK(11, 5.5MHz), DOPSK(2Mbps), DQPSK(1Mbps)
Data Rates
802.11g: 6, 9, 12, 18, 24, 36, 48, 54Mbps 802.11b: 1,2, 5.5, 11Mbps
Tx Power
FCC/IC: 23dBm ( ANT Port) ETSI/EU: 20dBm ( ANT Port)
Receiving Sensitivity
-82dBm @36Mbps; -78dBm @48Mbps; -76dBm @54Mbps
Channels
802.11g: USA, Canada, Saudi Arabia, Taiwan: 11 Most European countries, China: 13 France: 4 Japan: 14 802.11b: USA, Canada, Saudi Arabia, Taiwan: 11 Most European countries: 13 France: 4 Japan: 14
Antenna Port No.
Backhaul: 3 Access Point: 1
Mesh Network Performance
Up to 30Mbps backhaul throughput at 5th hop count
Maximum Operating Range
Backhaul
Node-to-node Distance: 304m(1000ft)@54Mbps
802.11g
Client AP: 150m(492ft)@54Mbps 500m(1640ft)@6Mbps (Transmission speed may vary according to the environment)
Software Feature
Security & Encryption
64bit, 128bit WEP encryption (Hardware Accelerated) WPA/WPA-2 (Hardware Accelerated) Mesh operator username/password Mesh ID protection Software RESET button to factory default
Multiple SSID/VLAN
support up-to 16 separate SSID/VLAN with different authentication and encryption simultaneously
RF Control
Tx Power Control - Settable Tx levels to adjust coverage cell size Automatic / Manual Channel Selection Automatic / Manual Mesh node selection Self-forming / self-healing Mesh Link
Management
Web based (HTML) Management
Hardware Specifications
Network Port
(1) 10/100Mbps auto crossover Ethernet WAN Port
(For connecting to Router or Gateway)
Power
Power Interface: POE
Input: 48 VDC 1000mA
Environment Conditions
Operating Temperature: -40°F to 131°F (-40°C to 55°C) Storage Temperature: -50°F to 158°F (-58°C to 70°C) Humidity: 95% maximum relative humidity, non-condensing
Physical Specifications
Dimension: 7.5in x 9in x 2.75in Weight: 7lb
Enclosure
Rating: NEMA4 weather proof
Antenna Connector: (3) weatherproof antenna connectors
Power Connector: (1) weatherproof Power/Data connector
Regulatory Compliance
Certification: FCC Part 15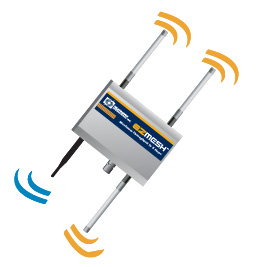 EZMESH


FCC NOTICE:
The use of all radio equipment is subject
to radio regulations in each country. It is
the responsibility of the purchaser/installer/
operator to insure that only approved equipment/systems are deployed. For
the ISM band (900MHz, 2.4GHz, 5.7GHz) equipment manufactured, sold/or used in the USA, FCC Title 47, Part 15 governs the sale, lease, use and manufacture of equipment
(wireless LAN cards, wireless Access points, amplifiers, etc.) and prohibits the same unless such equipment is used in the FCC-certified system configuration with which such equipment is authorized.

For information on Teletronics' FCC certified systems, please visit FCC Details.