5.8GHz 23 dBi Patch Subscriber Antenna
Highest quality patch antenna available in the market in 5 GHz band,
due to low side and back lobes. Built to military specs, this high gain
antenna is equally suitable for both point to point and point to multipoint
applications. Aesthetically pleasing, one-foot square size makes it ideal
for use where low profile is required.


| | |
| --- | --- |
| Frequency Range: | 5150 - 5875 MHz |
| Transmit Gain: | 23 dBi |
| Max. Input Power: | 6 W |
| Polarization: | Vert/Hori. |
| AZ/EL Beamwidth: | 9°/9° |
| Front to Back Ratio: | 32 dB |
| VSWR: | < 1.7 |
| Wind Load: | 130 mph (220 km/h) |
| Lightning Protection | DC Grounded |
| | |
| --- | --- |
| Connector: | N-Type Female |
| Operating Temperature: | -45°C to + 70°C |
| Size: | 24" x 24" x 2" |
| Weight: | 4 lbs |
| Material: | ABS |
| Additional Features: | Broadband Antenna |
| Mounting Kit: | Included: Pole and Wall |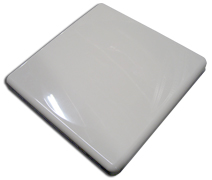 23 dBi Patch Antenna
5.8GHz
Item # 15-204