Teletronics' Complete Line of Frequency Converters
(Please click on the drop down menu to choose)

The Up/Down Converter 900M-PoE 2W
A highly linear product that delivers 2Watt of 900 MHz signal for
long range applications. Power over Ethernet design allows for
easy integration with other PoE enabled devices. Works with all
brands of 2.4GHz radios without any adjustments, including
Direct Sequence (DSSS).

Also available in OEM package with 48VDC input for use within
an existing 2.4GHz radio. Contact sales office for details.



Features:

UDC 900M PoE 2 Watt

Frequency Band to Ant:

902-928 MHz

Frequency Band to Radio:

2438 - 2464 MHz

Local Oscillator Frequency:

1536 MHz

Frequency Stability:

± 2.5 ppm

Output Power:

2 Watt (+ 33dBm)

Input Power:

10 mW ~ 50 mW
(10 dBm to 17 dBm)

RX Conversion Gain:

15 dB

TX Conversion Gain*:

up to 22 dB

Noise Figure:

4 dB

RF Connector:

SMA, Female, 50 Ohm

Power Consumption:

Tx = 350mA, Rx= 40mA @ 48VDC

Operating Temperature:

-40 °C to + 70 °C

Dimensions:

4.15" L x 3.15" W x 1.00" H
2400/900 MHz Channel Conversion Table
| | | |
| --- | --- | --- |
| 802.11 Channel | 2400 MHz | 900 MHz |
| 9 | 2452 | 916 |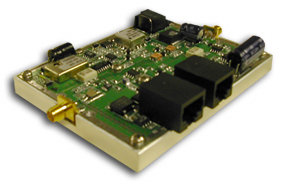 Up/Down Converter
902 - 928 MHz 2W
Item#13-902