Teletronics' Complete Line of Frequency Converters
(Please click on the drop down menu to choose)

Works with all brands of 2.4GHz radios without any adjustments.
A highly linear product that delivers 250mW of 3.7 GHz signal for
long range applications. Outdoor unit delivers full power right at the antenna feed.

Also available in OEM package with 9 V DC input for use within an existing 2.4GHz radio. Contact sales office for details.



Features:

UDC 3700

Frequency Band to Ant:

3700 - 3800 MHz

Frequency Band to Radio:

2400 - 2500 MHz

Local Oscillator Frequency:

1300 MHz

Frequency Stability:

± 2.5 ppm

Output Power:

250 mWatt (+ 24 dBm)

Input Power:

1 mW ~ 25 mW
(0 dBm to 14 dBm)

RX Conversion Gain:

10 dB

TX Conversion Gain:

up to 17 dB

Noise Figure:

4 dB

RF Connector:

N-Type, female, 50 Ohm

Power Consumption:

1.0A @ 9VDC
0.4 A @ 9VDC
1.2A / 9V

Operating Temperature:

-40 °C to + 70 °C
2.4/3.7 GHz Channel Conversion Table
| | | |
| --- | --- | --- |
| 802.11 Channel | 2400 MHz | 3700 MHz |
| 1 | 2412 | 3712 |
| 2 | 2417 | 3717 |
| 3 | 2422 | 3722 |
| 4 | 2427 | 3727 |
| 5 | 2432 | 3732 |
| 6 | 2437 | 3737 |
| 7 | 2442 | 3742 |
| 8 | 2447 | 3747 |
| 9 | 2452 | 3752 |
| 10 | 2457 | 3757 |
| 11 | 2462 | 3762 |
| 12 | 2467 | 3767 |
| 13 | 2472 | 3772 |
| 14 | 2477 | 3777 |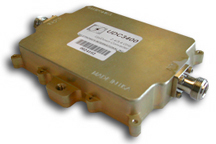 Up/Down Converter
2.4 GHz/3.7 GHz 250mWatt
Item # 13-304