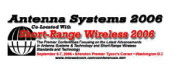 May 15 , 2006
Antenna Systems - and Short-Range Wireless Show 2006 will take place Sept. 6-7 at the Sheraton
Premier Tyson's Corner in Washington D.C. One registration will provide access to both technical
programs. Antenna Systems will focus on the latest advancements in antenna systems and
technology. The co-located Short-Range Wireless will focus on the most recent advancements
in short-range wireless standards and technology for industrial, commercial and residential
applications.

Teletronics International, Inc. designs, develops and manufactures a complete line of products
and solutions for high-speed wireless broadband systems including RF amplifiers, up/down
frequency converters, wireless network bridges and routers. Since 1984, Teletronics has been a pioneer in developing cost- effective products and solutions for the ever-evolving broadband wireless industry.

"With the help of technology leaders such as Teletronics, Antenna Systems - and Short-Range
Wireless 2006 are turning out to be fantastic events for the antenna & short-range wireless market,"
said conference chairman Jeremy Martin. "Our attendees and exhibitors alike are excited about the
possibilities these events will offer, which include great networking opportunities and the chance to
build lasting business relationships with numerous contacts in multiple markets."

For more information on this two-day conference and to view the current program, please visit the
web site at: www.antennasonline.com/ast_conf2006_index.htm.

The conference is organized by Antenna Systems and Technology magazine and produced by
Webcom Communications Corp., the magazine's publisher.

For information on presenting, please contact Jeremy Martin, conference chairman, at 800-803-9488
Ext. 118 or jeremym@infoweb.com. For more information on sponsoring or exhibiting, contact
Karen Poulson at 800-803-9488 Ext 106 or karen@infoweb.com. For information on attending,
please contact Marsha Hanrahan, marshah@infoweb.com, or visit the web site.

About Webcom Communications:
Webcom Communications Corp. is an integrated media company serving advanced technology
industries worldwide through its magazines, events, online media, directories, buyers guides,
market reports, data products and marketing.